The Quadrio shopping centre will open its first floor in an entirely new livery in September with a floor area of approximately 3 500 sq m and six new restaurant concepts on offer. In addition to Vapiano and Creperie that opened on 1 August, these will also include Spicymama, Loving Hut or Bombay Express. Cushman & Wakefield facilitated the lease of the space.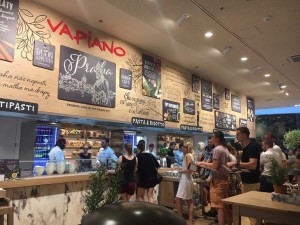 Quadrio is responding to the current requests of clients who demand a varied offer of catering services. A wide range of restaurants offered by shopping centres is becoming the success driver and the percentage of their share is growing constantly. It is on average 5–10% in the Czech Republic. Cushman & Wakefield estimates it will grow to 10–15%. Quadrio started refurbishing its first floor during the summer without interrupting the centre's operations. It will offer an entirely new food court in September. This will be appreciated by the office workers in the office part of the Quadrio.
"The Quadrio shopping centre is situated in a traffic node of Prague where the footfall increased by almost 10% over 2016 in the first half of this year. The decision to expand the range of catering services, which are highly in-demand particularly in busy locations such as this, is a correct one. This is also the right move with respect to the changing needs of the visitors. The trend calls for greater diversity enabling us to offer attractive concepts that emphasise the authenticity and freshness of the meals offered," says Mr Zdeněk Zádrapa, retail agency specialist focusing on catering and leisure at Cushman & Wakefield.
The visitors to the Quadrio can choose from a wide range of restaurants waiting for them on the newly refurbished first floor. The first one opened on 1 August, introducing a new concept of Mediterranean cuisine brought to the Czech Republic by the globally renowned VAPIANO restaurant chain. Spicymama is another brand new tenant with a restaurant focusing on fusion street food inspired by the Asian cuisine. Vegan cuisine aficionados will find a lot to like there too. Loving Hut will open its sixth branch in Prague in the Quadrio. Rounding off the offer of authentic meals is the fourth Bombay Express restaurant. Visitors will not miss out on well-established brands such as McDonald's including McCafé Creperie, a previous tenant, reopened with a new trendy interior design.
Source: Cushman & Wakefield
Prague, 14. September 2017