Third time in a row Cushman & Wakefield was named the CEE Retail & Leisure Agency Firm of the Year at the 2018 CEE Quality Awards.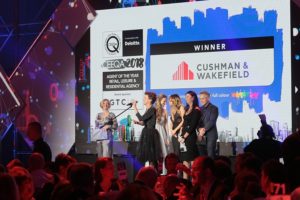 The event gala was held on 25th April 2018 at Mińska 65 in Warsaw. Cushman & Wakefield beat off the competition from a shortlist of 7 companies, including BSC Real Estate Advisors, CBRE, Coldwell Banker, Emmerson, JLL, Ober-Haus and Svoboda & Williams.
The aim of the CEE Quality Awards is to recognise excellence and promote the achievements of the emerging Europe real estate sector to the regional and international investment arena.
Jan Kotrbáček, International Partner and Head of Retail CEE at Cushman & Wakefield, said: "The CEEQA is a recognition of great work of all retail agencies of Cushman & Wakefield in the CEE region. We lead in all local markets with a dominant position in the Czech Republic, Slovakia and Hungary. Our regional team includes 72 professionals who represent the best brands and prime properties in all markets we operate in. Last year we closed 255,177 sqm in leasing transactions accounting for 1,030 deals and we secured over 1,600,000 sq m of retail mandates, Pradera being one of our biggest wins."
Cushman & Wakefield key achievements in 2017:
HUNGARY: Klepierre portfolio 130,135 sqm; Diófa 24 000 sqm ShopMark;
POLAND: Pradera 101,000 sqm (Janki PH, Rawa PH, Targówek PH, Franowo PH) C&W is responsible for leasing Pradera's portfolio in 8 countries; Tristan Capital Partners, White Star Real Estate 15,500 sqm (EC Powiśle);
SLOVAKIA: Danube Property 25,000 sqm Eurovea II.phase, Bratislava; Reality Management 13,000 sqm Galeria Martin; Mirage Žilina 18,500 sqm; Romania: Festival Centrum Sibiu 42,000 sqm;
CZECH REPUBLIC: Crestyl: OC Dornych, Brno – 15 700 sq m, property management and letting of existing department store; Crestyl: Savarin, Prague – 39,000 sq m, New development of multi-use project in the city centre of Prague; CPI Property Group: Releasing of 8 Retail Assets Portfolio in Prague, Olympia Teplice, IGY České Budějovice and others of total size 160,000 sq.m., Amadeus: Americka inPilsen – 55,000 sq m, new urban multipurpose development in the city centre of Pilsen; Rock Castle: Releasing of Asset Forum Liberec, Floweast: Wenceslas Square 47, Prague – 5,700 sq m, redevelopment of the HS project in the city centre of Prague; Pařížská 22, Prague, PPF. Exclusive instruction of 230 sq m.
Cushman & Wakefield retail property portfolio consists of almost 200 most iconic shopping centres in CEE & SEE, the best T-rep mandates including Primark, Forever21, Foot Locker, Kappahl, A.Blikle, Nespresso, DlaSpania, Pupa Milano, Vodafone, Jo Malone, Swarovski, ALO Diamonds, Claire´s, Levi´s, Philip Morris and many others.
Source: Cushman & Wakefield
Prague, May 10. 2018