At the 2015 edition of Macfrut, the Fruit & Veg Fantasy show will bring exhibitors and their innovations in contact with international buyers and journalists with talk shows, presentations and show cooking.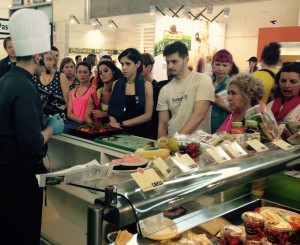 In short, this is the new format for the B2B meetings presented by Macfrut, the international exhibition of the fruit and vegetable sector, which will be held from 23 to 25 September at the Rimini Expo Centre.
The large entrance hall of the trade fair centre will host the Fruit & Veg Fantasy Show. After being tested in May by consumers during the Rimini Wellness trade fair with successful results, the initiative will take place, once again, at Macfrut with a focus on B2B meetings.
Product innovations, previews of new products for the Italian and foreign markets, and entire ranges of supplies will be showcased and presented directly to buyers and journalists from all around the world.
This will be an original and interactive way of coming into direct contact with innovative products, new packaging solutions and new mergers in the Italian fruit and vegetable sector.
The space dedicated to the Fruit & Veg Fantasy show will feature a large screen, plenty of seating and a fully equipped kitchen. Presentations will be mainly aimed at Italian and foreign buyers in the large-scale retail trade and retail sector, the HORECA sector, and all the operators interested in fruit and vegetable departments. This will be a great opportunity for exhibiting companies who intend to showcase their innovative products during the trade fair.
Thanks to the strategic agreement with Unicredit, Macfrut 2015 will be attended by a large number of buyers in the large-scale retail trade coming from Eastern Europe and major non-European countries. The leading international newspapers in the industry will also be attending.
For more information: http://www.macfrut.com/en/
Source: Macfrut 2015
Prague, 22 June 2015